Tablecloth of altar with monogram mariano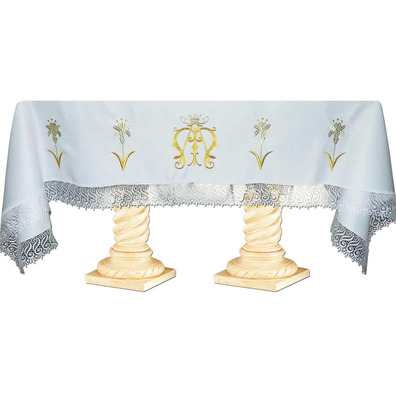 Ref:
04 Mantel Altar Mariano
(2.000 Kg.)
Your order will be sent in 24 hours if you do it from Monday to Friday before 2 pm. View options
Tablecloth altar mariano
Tablecloth on sale three measures:

200 cm by 150 cm
250 cm by 150 cm
300 cm by 150 cm

Made in 100% polyester.
Tablecloth embroidered with motifs and marian.
Decorated with lace for three of its four sides: the two sides of the tablecloth and the front.
Embroidery of the tablecloth of altar mariano
Tablecloth altar mariano decorated with two embroidery: a monogram of the Virgin Mary and fleur-de-lis or lily.
The Embroidery of the front part of the tablecloth of the altar in the center is a representation of the symbol of the Virgin Mary. The monogram is formed by the letter M in golden color and the letter To golden being intertwined. Both of these letters are the initials of the Greeting of the Archangel Gabriel to the Blessed Virgin (Ave Maria). The monogram is complete with a crown that highlights the queenship of Mary, the Queen of heaven and of earth.
Accompanying each one of the sides of the monogram of the Virgin Mary, are several lily flowers. This type of flower, especially its whiteness reflects the purity of the Virgin Mary, who is Immaculate since her Conception. It is also a symbol of faith and surrender to the grace of God. The lily is one of the elements most used by the art at the time of representing the Annunciation.
Embroidery the two sides of the tablecloth of the altar is constituted by fleurs-de-lis or lilies the same as the front.