Tablecloth altar with the cross of Jerusalem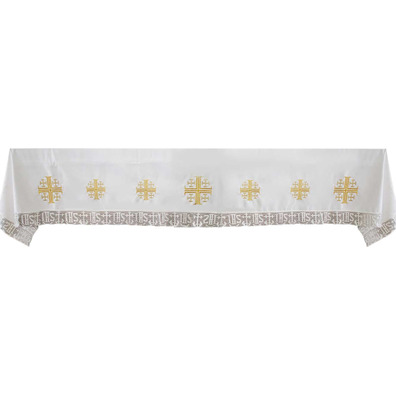 Ref:
02 Mantel Liturgico Cruces
(5.000 Kg.)
Your order will be sent in 24 hours if you do it from Monday to Friday before 2 pm. View options
Tablecloth altar
Tablecloth altar with 250 cm long and 150 cm wide.
Embroidered on three sides.
Made in 100% polyester.
Lace decorated with JHS and Crosses .
Tablecloth altar is Also for sale in 300 cm by 150 cm and 200 cm by 150 cm
Set of altar to play available in our online store.
Information of the tablecloth of the altar
Cloth for altar table made with a standard size of 250 cm long and 150 cm wide. Is embroidered, and wears lace for three of its four sides: the two sides of the tablecloth and the front. The lace is made of Crosses interspersed with JHS.
The symbol JHS is a modern adaptation of the IHS Latin which in turn comes from the abbreviation of the name Jesus in Greek letters upper case: IHCOUC. The expression is composed of the Greek letter iota (I: our i Latin, is written the same), eta (which is written in uppercase as our H: transcribed and is pronounced e) and C by their resemblance is transformed into a sigma (ς) (our s). It is believed that it was St. Bernardino of Siena, who in the FOURTEENTH century gave the name more meaning to each letter, turning each a in the initials of a phrase: Iesus (or Jesus in the present) Hominum Salvator, which most experts translate as ' Jesus Saviour of Men.
This tablecloth for the altar table can be made with other measures, finishes and embroidery.
Embroidery of the tablecloth of the altar
This tablecloth has a type of embroidery in various sizes. The composition is formed by a repetition of the Cross of Jerusalem, a central Cross golden accompanied by four Crosses golden of smaller size between each of the arms.