Tabernacle of bronze with the exhibitor for Blessed Sacrament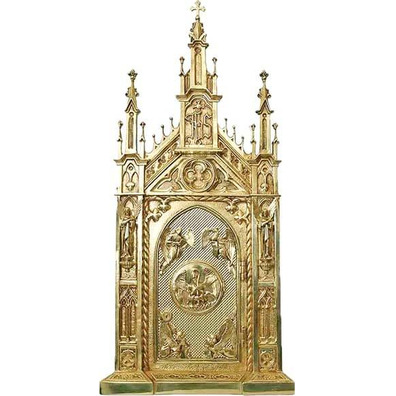 (60.000 Kg.)
Religious item available on request . Delivery time is approximately 4-8 weeks. For more information about this product contact to Brabander Religious Articles.
Tabernacle of bronze
Tabernacle designed with gothic style.
Manufactured in bronze.
79 cm high from the base to the Cross.
37 cm wide.
Tabernacle with 30 cm of depth.
Main door with circular window to the exposition of the Blessed Sacrament.
Interior of the sagrario completely smooth, and ornamented with an image of Our Lord Jesus, the vines and spikes in relief.
The front of the shrine is decorated by:

Two side columns with elements in relief typical of the architecture of the gothic. In addition, two figures of Angels in relief. Both columns are topped with two spires in the form of a needle.
Main door the symbols of the four Evangelists: the Angel ( Saint Matthew), the Eagle ( Saint John), the Lion (Saint Mark), the Bull (Saint Luke). The four carry the Gospels.
Door to the exhibitor of the Blessed Sacrament with a pelican fed her young. The image of the pelican is one of the images that are traditionally used to identify Jesus.
Central part of the tabernacle decorated with JHS and a Cross on the top.