Reliquary gothic bronze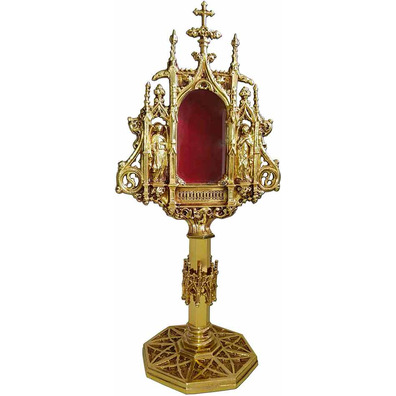 (10.000 Kg.)
Religious item available on request . Delivery time is approximately 4-8 weeks. For more information about this product contact to Brabander Religious Articles.
Reliquary bronze
Reliquary of bronze.
Made with a gothic style.
Height of 60 cm approx.
27 cm wide.
Box for relic:

Height 14 cm
Width of 8.5 cm
Background of 2 cm

Deposit for relic lined with red fabric.
Reliquary on a stand with an octagonal shape
The shaft maintains the structure of a polygonal of the basement. Decorated with gothic elements.
The area of the tank relic is formed by three chapels;

One central chapel of a larger size where is located the relic.
Two side chapels adorned with two images, columns and are topped with spires.

Custody gothic bronze to play with this locket available in our online store.