Custody of bronze gothic style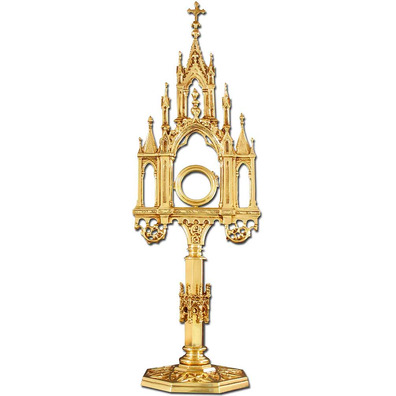 (10.000 Kg.)
Religious item available on request . Delivery time is approximately 4-8 weeks. For more information about this product contact to Brabander Religious Articles.
Custody gothic
Custody made in bronze.
Gothic style
74 cm high.
25 cm wide.
Custody gothic, description.
Custody of gothic style, made in bronze. Measures 74 inches high from the base to the upper end of the Cross. Piece of jewelry religious with 25 centimeters in its widest part. This ornament has a foot formed by a plinth, octagonal decorated typical of the monstrances of the FIFTEENTH century.
The grip or shaft, that goes from the foot up to the virile, keeps the structure a polygon of the base and is decorated with various architectural motifs.
The area of manly is formed by three chapels; a central one of greater size, location of the Host, and two more at each of the sides. Each of the chapels is decorated with columns and are surmounted with spires, with rich decoration. The sales center is complete with another chapel of a smaller size ends in a Cross.