Reliquary - monstrance gothic golden metal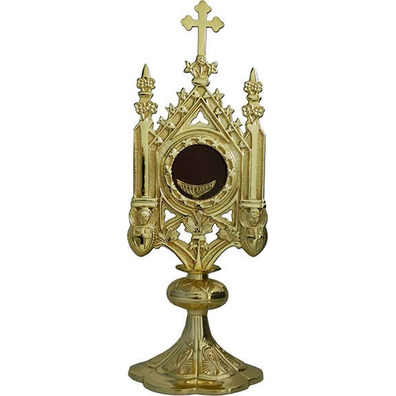 (5.000 Kg.)
Your order will be sent in 24 hours if you do it from Monday to Friday before 2 pm. View options
Reliquary monstrance
The custody reliquary made of metal.
Bathroom golden.
46 cm tall including the Cross.
Base with 16 cm of width.
Container for the Form or relic with 8,50 cm in diameter and 4.3 cm deep.
Moon glass front with 6.5 cm of diameter.
Reliquary with base polilobulada decorated with elements in relief.
Knot oval with round smooth top, and bottom with decoration in relief.
Top decorated with elements in relief.
Virile with a system to adjust to the thickness of the Shape.
This model of custody, for his great ability in the area of the virile, can be used as a reliquary.