Clergy cassocks for sale black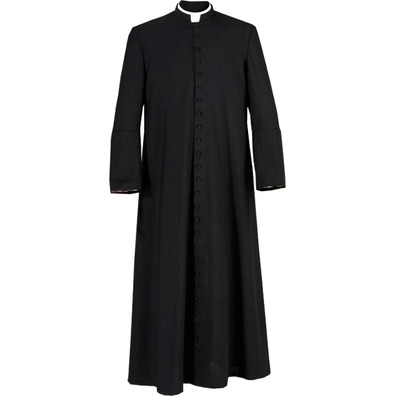 (4.000 Kg.)
Religious item available on request . Delivery time is approximately 4-8 weeks. For more information about this product contact to Brabander Religious Articles.
Clergy black cassock for sale
100% wool fabric clergy cassock .
Inner Cotton lining.
Black cassock.
Catholic cassock with side pockets.
Back fold.
Coated buttons.
Also black cassocks for seminarians, cardinals, bishops, etc ...
Clergy black cassacok made on demand.
Clergy black cassock, measuraments
The cassocks are one of the most used liturgical vestments by priests, bishops, cardinals, seminarians, etc ... The cassock is a garment that is made to measure to fit perfectly to the person who will wear it. If you want to buy a cassock the measures that we need to make the cassock are:
Number of shirt collar. Neck circumference of the priest or person who will wear it.
Back lenght. Distance from shoulder to shoulder.
Chest circumference. Centimeters that measures the chest of the priest. Measure everything around the chest, just below the arms, passing the tape measure through the armpits.
Stomach circumference.
Sleeve length. Measure from the priest's shoulder to the wrist.
Total height of the cassock. Centimeters from the priest's neck to the ground. To this extent, approximately 6 centimeters are subtracted to calculate the height of the cassock.
The numbers indicated in the list of measurements of the cassocks correspond to one of the images included in the description of this priestly dress. In the image you will see numbers and shapes of two colors.
The red numbers and circles correspond to perimeter measurements. That is, measures of the contour of a certain area: the neck, chest and stomach.
The numbers and lines of green correspond to linear measurements. That is, to measure in a straight line of a certain area: the width of the back, the length of the arm and the height of the cassock.